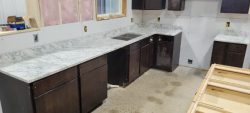 Welcome to K2 Graniteworks and Remodeling, your go-to stone countertop contractor in Sun Prairie, WI. As a family-owned business, we've been proudly serving Madison, WI, and its surrounding areas since 2007. With our dedicated team of professionals, we offer top-notch quartz and granite services for a variety of applications, including countertops, mantles, and wall tops. And our expertise as remodeling contractors extends to both residential and commercial projects, as well.
Call Now To Request A FREE Quote! (608) 441-5600
Complete Remodeling Services
Countertops
Our team at K2 Graniteworks and Remodeling understands that your countertops play a crucial role in your home or business. That's why we offer a wide selection of stunning granite and quartz countertops to enhance the aesthetic appeal and functionality of your space. From classic designs to modern styles, we have the perfect countertop solution to suit your unique taste and requirements.
Mantles
Elevate the look of your fireplace with a beautifully crafted mantle made from high-quality quartz or granite. At K2 Graniteworks and Remodeling, we have the expertise to create custom mantles that not only enhance the visual appeal of your fireplace but also add a touch of elegance to your living space.
Wall Tops
Enhance the beauty of your walls with our durable and visually appealing quartz and granite wall tops. Whether you're looking to create a stunning accent wall or add a touch of sophistication to your bathroom, our expert team can help you choose the perfect material and design to achieve your desired look.
Commercial Businesses
At K2 Graniteworks and Remodeling, we understand the importance of creating a professional and inviting atmosphere for your commercial space. With our top-quality commercial granite countertops, you can impress your clients and customers with an elegant and sophisticated establishment. From restaurants to retail stores, we have the expertise to handle projects of all sizes and complexities.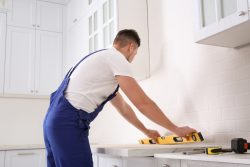 Why Choose K2 Graniteworks and Remodeling
When it comes to stone countertop contractors in Sun Prairie, WI, our team at K2 Graniteworks and Remodeling stands out for several reasons. Here are just a few:
Experience: With over a decade of experience in the industry, we have the knowledge and skills to deliver exceptional results that exceed our clients' expectations.
Quality Materials: We source our quartz and granite from reputable suppliers to ensure that you receive the highest-quality materials for your project.
Expert Craftsmanship: Our team of skilled craftsmen takes pride in their work, paying meticulous attention to every detail to ensure a flawless finish.
Personalized Service: We understand that every client has unique needs and preferences. That's why we offer personalized service, working closely with you to bring your vision to life.
Contact Us Today
So whether you're a homeowner looking to transform your kitchen or a business owner in need of high-quality countertops, mantles, or wall tops, K2 Graniteworks and Remodeling is here to serve you. Just contact us today to schedule a consultation, and let us help you create the space of your dreams.
Schedule a Consultation Call Now To Request A FREE Quote! (608) 441-5600