Quality materials make the right impression. When people enter your facilities, give them something that'll impress them—like commercial granite countertops in Madison, WI. Granite makes a bold statement about the quality of your establishment and your commitment to excellence.
Call Now To Request A FREE Quote! (608) 441-5600
K2 Graniteworks has experience installing commercial granite countertops for businesses and commercial offices throughout the greater Madison area, including Dane County, Burke, Monona, and Maple Bluff, WI. We handle the entire process—from taking measurements, to cutting and shaping, to installation and finishing. We're the only company you need to call to reap the benefits of beautiful granite countertops in your establishment.
You can see our work throughout the area! We've helped all types of commercial establishments enhance their interiors and set a precedent for excellence, including:
RESTAURANTS
From bar tops to booths, tables to hostess stations, there's a place for granite throughout your restaurant. No matter what type of fine dining experience you provide for customers, it's sure to leave them feeling upscale when they're dinging in the presence of granite. You'll add bold appeal to your restaurant, while benefitting from the simple upkeep of granite.
BARS
Bar tops see all types of patronage—especially in Madison, the drinking capital of the Midwest! Make sure your bar is one patrons love to belly up to. Beautiful granite bar tops not only give your establishment charm and appeal, they're also easy to maintain and durable for the long haul. Some of the oldest bars in the city have granite throughout—let us bring this same quality material to your watering hole.
OFFICES
Your office is upscale and prestigious. Shouldn't its materials and décor reflect that? Nothing matches the beauty and prestige of granite countertops. Whether you're a law firm, consulting agency, PR agency or any other white-collar firm trying to make a good impression on employees and clients, commercial granite countertops in Madison, WI are the answer.
RECEPTION AREAS
What better way to greet visitors and make a first impression than sitting behind a beautiful granite countertop? Immediately, you'll set the tone for what people can expect at your establishment: Sophistication and class.
Our experience extends to nearly any commercial business seeking the timeless benefits of commercial granite countertops in. Consult with us today and we'll take steps to ensure a personalized installation for your business.
Contact Us Call Now To Request A FREE Quote! (608) 441-5600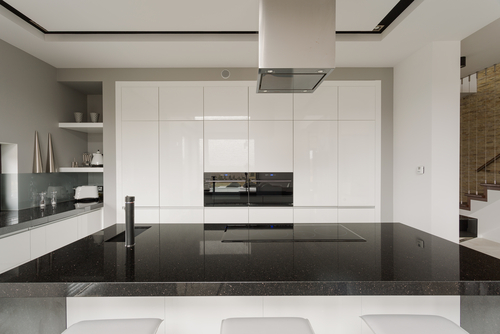 All Colors and Styles
The beauty of granite countertops are their diversity. Granite has so many colors and hues, each with its own unique grain pattern and striations. Because granite is naturally occurring, no two slabs are alike! You're guaranteed something truly original. Not quite your style? Consider quartz countertops instead!
Our team is glad to work with you to choose the right color and texture for your installation. Whether you prefer a dark slab with glinting mica formations or a lighter color with gorgeous striations, our team will make sure you get what you need.
Boost Your Commercial Appeal
One of the simplest ways to boost the elegance of your interior is with commercial granite countertops in Madison, WI. To have a countertop measured, cut and installed for your business, contact K2 Graniteworks. Reach us today at (608) 441-5600 to discuss the scope of your installation.