Want the beauty of natural stone, the resilience of engineered material and the option to customize your bathroom and kitchen countertops? You want quartz, and K2 Graniteworks is here to make sure you get the installation you deserve. We're the experts to call when you're renovating your bathroom or want to make the luxury upgrade to kitchen quartz countertops in Madison, Dane County, Burke, Monona, and Maple Bluff, WI.
Complete Design and Countertop Installation
We're the quartz experts, delivering complete countertop installation services. We'll take care of everything, from taking measurements of your countertops, to cutting and customizing the quartz, to installation, finishing and beyond. No coordinating contractors or relying on multiple companies for sales, service, and installation. We'll take care of you every step of the way.
Part of our superior service involves helping you pick the quartz style that's right for your kitchen or bathroom. We've got samples and customization options to fit any décor theme. We're happy to put our expertise to work for you, recommending different colors and styles, to help you get the most out of your investment in quartz.
Bathroom & Kitchen Countertops
Whether you're completely renovating your kitchen or have decided to make the investment in bathroom quartz countertops, rest assured we're the experts to trust with your upgrade plans. Our many years of updating bathrooms and kitchens mean you'll be left with countertops that are the centerpiece of the room—a luxury addition to your home and lifestyle.
Quartz is the perfect complement to both kitchens and bathrooms. It can instantly elevate the theme and décor, and it's ready to stand up to the daily use of these environments. Best of all, these are two areas of the home that add value to your property—an investment in quartz will pay for itself in the value it adds to your home!
Why Quartz?
Many of our customers ask us, why quartz? Why not granite or some other natural stone? While natural stone is a stunning addition to many homes, most homeowners benefit from quartz because it's customizable. With quartz, it's easy to get the exact look you want from your new countertops.
Customization isn't the only benefit quartz brings with it! Take a look at some of the many reasons homeowners are willing to pay a premium for quality quartz in their kitchens and bathrooms:
It's an extremely attractive material that offers luxury appeal.
It's available in a wide range of colors, customizable to every home.
Quartz is engineered, giving it more options than natural stone.
There's great depth in quartz—far more than other engineered materials.
Quartz offers great durability and stands up to everyday wear well.
A non-porous material, quartz won't stain or discolor over time.
It's extremely easy to clean and maintain quartz.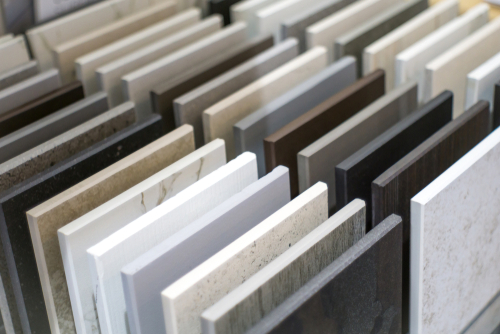 All these benefits pay for themselves over time, especially in the everyday enjoyment you'll get from using your bathroom or kitchen quartz countertops in Madison, WI. Installed right, you'll likely never need to replace your quartz countertops for as long as you live in your home! And if quartz doesn't suit you, consider granite countertops, instead.
Bring Home Quality Quartz
Ready to bring luxury, elegance and tailored appeal into your home? Talk to the experts at K2 Graniteworks today about quartz countertops! We'll install the ideal material in your kitchen or bathroom, so you can begin enjoying the many benefits quartz has to offer. Reach us today at (608) 441-5600 or text us today at (608)513-8015to discuss customization options.